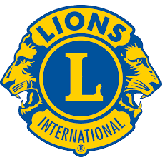 Southbourne Lions Club honours local people
Every year, in January, Southbourne Lions Club holds a party in Bosham Village Hall to thank those who have helped the Club during the year at fetes and with the Christmas Float collections. The evening often starts with a talk, this time by Jim Strudwick , a local playwright, about the challenges of writing his play 'When the Poppies Bloom' as a tribute to the fallen of WW1 and of then organising its presentation by the Emsworth Players last November.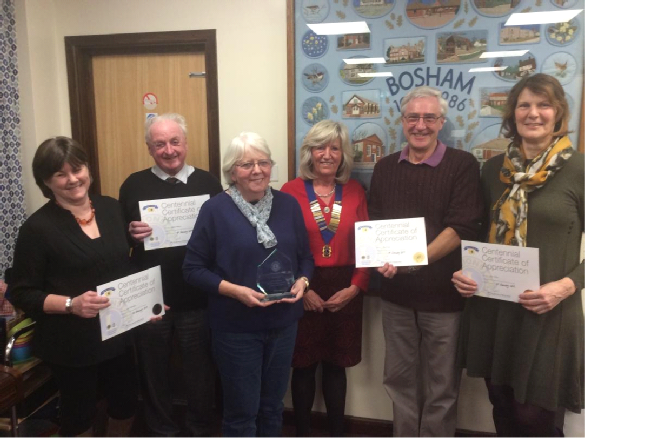 The Club took up the suggestion of Phil Nathan last March to recognise individuals who have made outstanding contributions to our community. We were delighted to be able to make presentations during the evening, to five people whom we felt merited this recognition.
Ruth Heelan was presented with a plaque for her tireless work over a number of years to bring the community of Southbourne together, organising and promoting fundraising and social events and much more. Four certificates of appreciation were presented. To Jane Mottershead for service to Girl Guiding, both as District Governor and Guider to Funtington Brownies. To David West as Chairman of the Bosham Monday Club Transport Committee; the Club's minibus is a community facility for people over 60 living in Bosham and surrounding villages, which provides transport to those who need it.. To Geoffrey Williams, chairman of
Emsworth Valley Community Transport, a charity providing transport for those not so able, to attend medical appointments, shopping etc. Last, but not least, to Fiona Wilson, editor of the Village Magazine, which covers our area between Chichester and Emsworth and features articles and news items of local interest and promotes a great many clubs and organisations in the area.
Refreshments were served at the end of the meeting and as no-one was in a hurry to leave, it was obvious that everyone enjoyed the evening!
L to R: Jane Mottershead, Geoffrey Williams, Ruth Heelan, President Lynne Smith, David West, Fiona Wilson